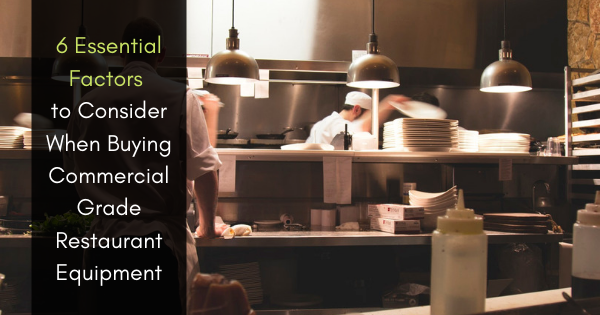 Are you considering starting a new restaurant or need to upgrade your current commercial restaurant equipment? As with any major investment, choosing the best commercial grade restaurant equipment can be overwhelming. When starting a new restaurant, you have limited time and a limited budget, which can put additional pressure on you. Here are some essential factors to consider when shopping for new restaurant equipment.
Efficiency
If you have experience working in a professional kitchen, you will know the importance of usability. For example, kitchens are meant to enhance the efficiency of the staff. That's why you need to shop with functionality in mind rather than aesthetics or price alone.
Ease of Maintenance
One main characteristic of commercial kitchens is that they can get messy, and fast. Almost every staff is tired and clearing the mess can turn out to be a significant task. However, the design of the commercial grade restaurant equipment will help in determining the ease of cleaning and maintenance schedule.
Equipment Size
The size of the commercial grade equipment you intend to purchase is one of the first things you need to take into account. The size will be dependent on the needs of your kitchen and the volume of food you deal with. You also need to consider your physical space, so that the equipment doesn't impede the movement of your staff.
Safety
Safety should be one of the most important factors when choosing commercial grade restaurant equipment. No one is interested in being involved in litigation cases after one of their staff gets injured by sharp edges or hot surfaces. Since most of the equipment meant for the kitchen is made from either hardened plastic or metal, it is appropriate you purchase equipment that has high safety measures and has been designed with safety in mind.
Cost
With different brands and several suppliers in the market, the same kitchen equipment will always be available at different price ranges depending on what features are contained. For example, there are similar types of commercial dough mixers having different jar sizes in the market. The cost of these blenders will vary increasing as the size of jar increases. It is advisable that you go for the best kitchen appliance that you can afford.
Warranty
When shopping for the commercial grade restaurant equipment, it is vital that you always ask about the warranty and the duration of its effect. If you find yourself stuck between two similar commercial bakery mixers, then you can consider their warranty features to help you settle on one.
Read Through the Local Building and Health Codes
Fire, health, and building codes do vary depending on the location of your restaurant. These codes will affect how close certain types of equipment can be to one another, their proximity to the public, and other concerns. It is advisable that you carefully go through the codes before purchasing any commercial grade restaurant equipment.
Since buying commercial grade restaurant equipment is considered to be an excellent investment, it is advisable never to rush when making any purchase. Instead, you should take your time, do in-depth research, and even consult professionals before investing in any new restaurant equipment.
Recent Posts
The restaurant industry is one of the most vibrant sectors of the American economy, pulling in $783 …

The restaurant industry can be a tough place. There are so many factors to consider. From the qualit …

As many as 34% of Americans visit casual dining restaurants once a week, and plenty of those restaur …