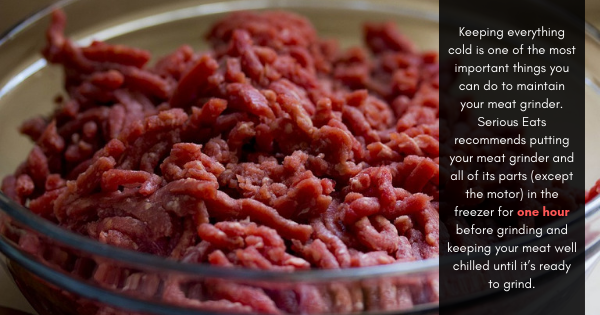 Restaurants all across the country are focusing on producing as much of their food in-house to provide an authentic and positive experience for local diners. It makes sense, then, that you'll want to explore the different professional meat grinders for sale if you're opening a new eatery or are in the process of updating your commercial kitchen. In today's post, we'll briefly discuss a few of the main reasons you might want to grind your own meat on-site, as well as the steps you can take to ensure you're able to use this commercial restaurant equipment safely.
Why Grind Your Own Meat?
Before you buy the best meat grinder on the market, you might ask yourself: "why should I opt to grind my own meat at all?" While it certainly is possible to obtain ground meat from your local butcher, a restaurant that focuses on farm-to-table ingredients or appeals to meat lovers in particular may do well to invest in this commercial restaurant equipment themselves. Not only can this process provide a superior flavor and a more pleasing texture, but it can actually be much safer for the consumer. For any restauranteur, those three reasons alone will ensure that your establishment garners great reviews, a loyal clientele, and a stellar reputation -- so why would you take pride in your work by adding this type of commercial restaurant equipment to your kitchen?
How to use a Commercial Meat Grinder Safely
While meat grinders can certainly make a huge difference in the quality of a protein (and even an entire meal, as a result), this equipment needs to be used properly every time. Our safety and quality maintenance tips are as follows:
Do the Prep Work: Prep work is a regular part of being in the kitchen. But with your meat grinder specifically, you'll need to do your due diligence before you start. It's a good idea to keep your meat grinder and all its parts (excluding the motor) in the freezer for an hour prior to grinding. You should also keep your meat chilled until it's time to start grinding. Prioritizing cool temperatures can help to maintain the integrity of your grinder. Before grinding, double check to ensure the thumbscrew is tightened as directed; while you should refrain from over-tightening, you can turn it counter-clockwise to make sure. You'll also want to tighten the grinding head against the grinding plate to prevent accidents.


Never Use Your Fingers to Feed: It may be tempting to use your fingers to feed the meat into the grinder. But your hands are essential for your work! Using the grinder in this fashion can result in serious injury. Always use the pusher or stomper to feed the meat into the grinder and ensure it's on-hand during each use. Even if you're extremely confident in your abilities, this is a health risk you should never take.


Understand Your Grinder's Limitations: Although you've probably made efforts to buy the best commercial restaurant equipment available, you might have overlooked the specific capabilities of your meat grinder. Don't make assumptions about what it can handle if you don't know for sure. While some grinders can easily grind bones or larger portions of meat all at once, others simply aren't up to the task. If you try to grind beyond your grinder's limits, you could potentially damage the equipment. Unless you want to pay for repairs or replacement and don't mind dealing with angry customers, you'll want to respect those limitations.


Clean the Grinder Correctly: In order to clean the meat grinder, the employee must remove the equipment's protective guards. The grinder must also be unplugged and cooled down before being disassembled and washed. Employers are responsible for establishing procedures for locking out or tagging out slicers or grinders, as well as ensuring that workers' hands are protected from cuts or amputations during the cleaning process. Training must be provided to all employees regarding the distance between an individual's hand and the edges of the blades, wiping the blades, and washing the equipment.
Having a commercial meat grinder in your kitchen can set your establishment apart if you follow proper safety procedures. For more information on our equipment, contact us today.